ある家族のパーマカルチャー的自然調和への冒険

by guibi
| | | | | | | |
| --- | --- | --- | --- | --- | --- | --- |
| S | M | T | W | T | F | S |
| | | | | 1 | 2 | 3 |
| 4 | 5 | 6 | 7 | 8 | 9 | 10 |
| 11 | 12 | 13 | 14 | 15 | 16 | 17 |
| 18 | 19 | 20 | 21 | 22 | 23 | 24 |
| 25 | 26 | 27 | 28 | 29 | 30 | 31 |
(Stop reading this entry! This is an unfinished post. Wait for the real post in a day or two.
Feel free to read earlier posts! :-)
Time to post an update before I forget what I got up to this month. Seemed like an awfully busy one.
Most of the jobs this month were finishing up things that I'd left half done. I've added three strands of wire to the fence all around to act as extra deer deterrence. Built 3 gates and hung 4 (John's gate was waiting for hinges). Planted about a dozen new fruit trees, some replacing those that got deered last winter (kaki, apple, nashi), others just adding to the variety (Paw Paw, Feijoa, Wolfberry, Almond, Peach, Cranberry and others). I also moved some of our surviving rootstock out into the woods where I'm looking forward to seeing it develop (if it survives out there, deer and all). The orchards got a major tidy up and I sowed heaps of hairy vetch and clover in the areas Kazumi will be building the understory next spring.
I consolidated two of the three compost piles so as to increase the volume and hopefully the temperature within, thereby speed up the decomposing and killing any seed that's made it this far. If it goes right, I'll have about a ton of wicked compost next spring. What was the third compost heap is now full of autumn leaves and when that's done (maybe next winter) there'll be another half ton of tip-top, seed free compost ready for spreading.
I've cut up a bunch of tree trunks that I'd left lying around the place, so we now have benches placed in strategic locations. It'll be great to just veg out with a book on them in the spring... Ha! Who am I kidding? Time to read? Pah!
Well, it's turned into another bi-monthly report, but here it is at last. お待たせしました!
Sept~Oct
I started the month in need of a break from the yurt. I'd spent all summer in there and was starting to make silly little mistakes, so I decided to turn my attentions elsewhere for a bit before I made any big ones.
I've been scrounging glass for the shed windows and "the green-house-to-be " all year and had enough to complete the shed so got down to doing that. Needless to say I didn't finish the job, (hey who do you think I am?) but I got all the sills and surrounds -John will probably teach me the real names later- done and rather spiffy they look too.
I would have got the windows themselves in, but suddenly got an email from a WWOOFer. "A WWOOFer?" I hear you ask. Yes. A WillingWorkerOnOrganicFarms-er. Basically, WWOOFers are folk looking to exchange their labour for accommodation and food. They do this to either learn more about organic farming or just to prolong their trip. The WWOOFer who wrote to me had been involved in a number of Permaculture projects in Europe, but was about to arrive in Japan and had read about us. "Maybe I could stay for a few weeks and help you out..." or words to that effect. Never one to look a gift-horse in the mouth, I wrote back explaining the lack of creature comforts, the heavy nature of the work I had in mind and not to expect a garden of eden as what we were still doing was basically re-building the soil.
She surprised me with her response: "Fine. I'll be there on the 14th."
Click here to read on...
The rainy season is officially upon us, not that you'd know it up here. We've had maybe 3 days of serious rainy season rain (and the new drain worked just fine), a week or so of clammy hot 'n' humid and the rest of the time relatively cool (high 20s) and cloudy. Perfect weather for the veg! Perfect weather for the weeds! We've had a lot of success with carrots, beetroot, peas, daikon, pac-choi, rocket and amaranth (last years crop self seeded). Our corn is about ready and I'm keeping my fingers crossed that nothing will steal them. The corn patch is netted in this year, we live and learn!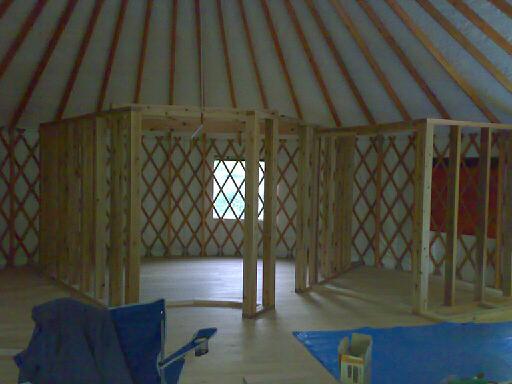 More
カテゴリ
全体
About Us:私達について
Early days:初めは
Forest Garden:食べる森
Lower Field:下の畑
Yurt:ゲル
Other Work:その他の作業
People:人々
Permaculture
This month...
未分類
以前の記事
2013年 11月
2012年 10月
2012年 08月
2012年 06月
2012年 05月
2011年 03月
2010年 12月
2010年 10月
2010年 09月
2010年 08月
2010年 07月
2010年 06月
2010年 05月
2010年 04月
2010年 03月
フォロー中のブログ
エキサイトブログヘルプ
外部リンク
ライフログ
検索
タグ
June
その他のジャンル
最新の記事
ファン
記事ランキング
ブログジャンル
画像一覧