ある家族のパーマカルチャー的自然調和への冒険

by guibi
| | | | | | | |
| --- | --- | --- | --- | --- | --- | --- |
| S | M | T | W | T | F | S |
| | | | | 1 | 2 | 3 |
| 4 | 5 | 6 | 7 | 8 | 9 | 10 |
| 11 | 12 | 13 | 14 | 15 | 16 | 17 |
| 18 | 19 | 20 | 21 | 22 | 23 | 24 |
| 25 | 26 | 27 | 28 | 29 | 30 | 31 |
The One Straw Revolution?... pffffft!
Well, it's turned into another bi-monthly report, but here it is at last. お待たせしました!
Sept~Oct
I started the month in need of a break from the yurt. I'd spent all summer in there and was starting to make silly little mistakes, so I decided to turn my attentions elsewhere for a bit before I made any big ones.
I've been scrounging glass for the shed windows and "the green-house-to-be " all year and had enough to complete the shed so got down to doing that. Needless to say I didn't finish the job, (hey who do you think I am?) but I got all the sills and surrounds -John will probably teach me the real names later- done and rather spiffy they look too.
I would have got the windows themselves in, but suddenly got an email from a WWOOFer. "A WWOOFer?" I hear you ask. Yes. A WillingWorkerOnOrganicFarms-er. Basically, WWOOFers are folk looking to exchange their labour for accommodation and food. They do this to either learn more about organic farming or just to prolong their trip. The WWOOFer who wrote to me had been involved in a number of Permaculture projects in Europe, but was about to arrive in Japan and had read about us. "Maybe I could stay for a few weeks and help you out..." or words to that effect. Never one to look a gift-horse in the mouth, I wrote back explaining the lack of creature comforts, the heavy nature of the work I had in mind and not to expect a garden of eden as what we were still doing was basically re-building the soil.
She surprised me with her response: "Fine. I'll be there on the 14th."
Enter Brigitte!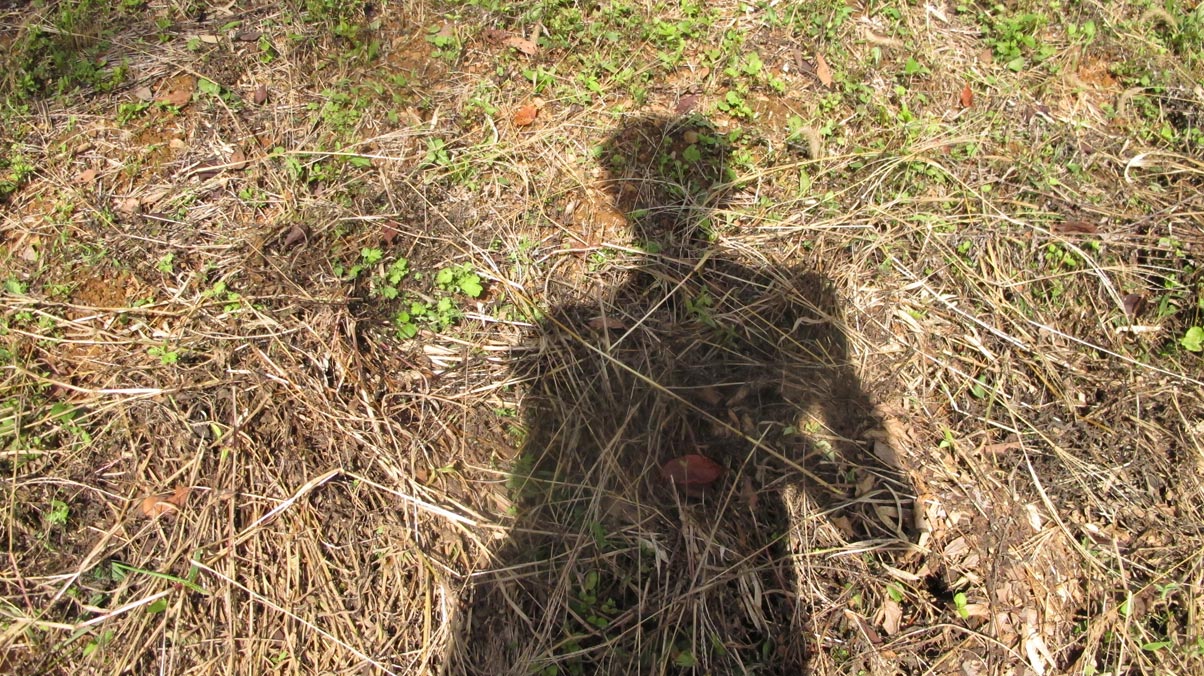 I had a week to plan for the next 4 weeks. Just what I needed, a new self-imposed deadline :-)
So, the list began:
- Clear the storm drains and take the silt up on to the beds.
- Clear the bank above said drain, alongside of the track, prepare and plant with bulbs for next spring.
- Build a structure on which to air rice straw.
- Collect and hang said straw.
- And the big one... dig over and rebuild the beds on the lower field, sow with clover and/or beans as cover crops so as to be ready for next spring.
There... that should keep us busy, I thought. And so it did!
The drain cleaning and bulb planting kept us busy for a few days and a passing typhoon a couple of days later came not a moment too soon. The drain did its job perfectly and the bulbs and wild flower seeds we'd sown got a good soaking in. Can't wait to see how that area looks next spring. Should be a riot of colour. Talking of colour, things are rather pretty around here at the moment.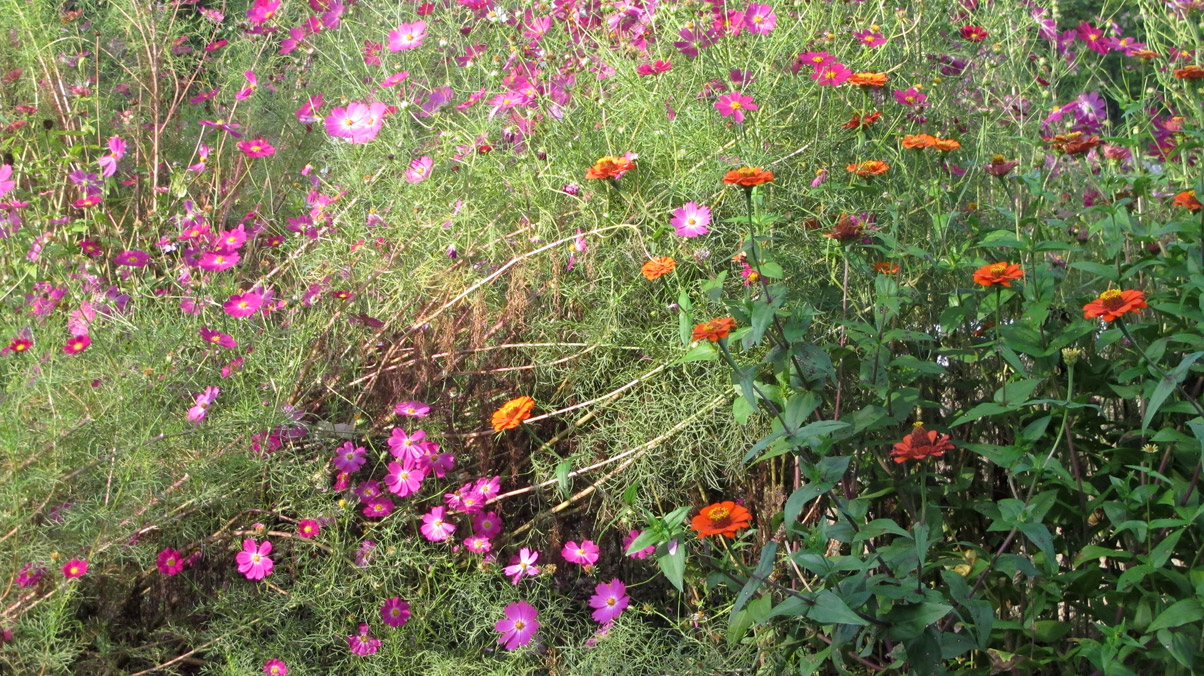 There's a new gallery of pics taken
around the neighbourhood here
.
So, the worst of the heat has finally made itself scarce and we're down to typical daytime temps of 22C with nights down to 15C or there abouts. Chestnuts are falling and the leaves are just now turning. We'll be a blaze of colour in a fortnight and ankle deep in leaves in a month, mark my words.
Next on the list was beds. I was in two minds as to whether it was fair to ask Brigitte to help with this as it's such back breaking work. This is the third time we've constructed the beds and hopefully it'll be the last. Each year we have turned heaps of biomass into the beds and added more beds as the soil improves. Basically we've been rebuilding the soil. I figure we've got another 8 years to go before Kazumi's folks say "Hmm, not bad." (they both grew up in farming families in Hokkaido where the soil is truly lush). Hopefully we will be able to add biomass to the top from now on rather than having to dig it in (as does nature). Anyway, I asked and gave her the option to choose other work, but no, she was keen to get on with it and so we did. Seriously, I did this on my own last year and it took me well over a month. We were done in two weeks this time and the beds have never looked better. Big thanks to Brigitte for this. You kept me going and worked your butt off just because you could. Once we were done digging and shaping, we sowed with clover and field beans to provide some living mulch up until the snows. Once the snows melt we'll be spreading straw...
The end result:

More
bed construction pics here
...
The one straw revolution my arse!
Straw is an ideal material for mulching beds. It insulates the soil, helps it retain moisture, suppresses weeds, reduces the eroding effects of wind and rain and when it's finally done all that, starts to rot down and return to the soil. Trouble was, we needed an awful lot of straw for the 40+ beds we were building and when it goes for 400 yen per kg in the home centers, you can imagine the cost. Unless... you happen to have rice paddies all around and the farmers who own them are rather partial to Asahi Super Dry!
I arranged to have a paddy's worth (about a quarter acre) of straw left unshredded and was told that the harvest would be on or around the second week of September. Perfect timing for Brigitte, I thought. What with the typhoons and various delays while they waited for the best harvesting conditions, we were very relieved when they eventually brought out the combines first week of October. We'd kept busy what with the beds and stuff, and in anticipation of the straw we'd built a structure on which to hang it to dry until spring.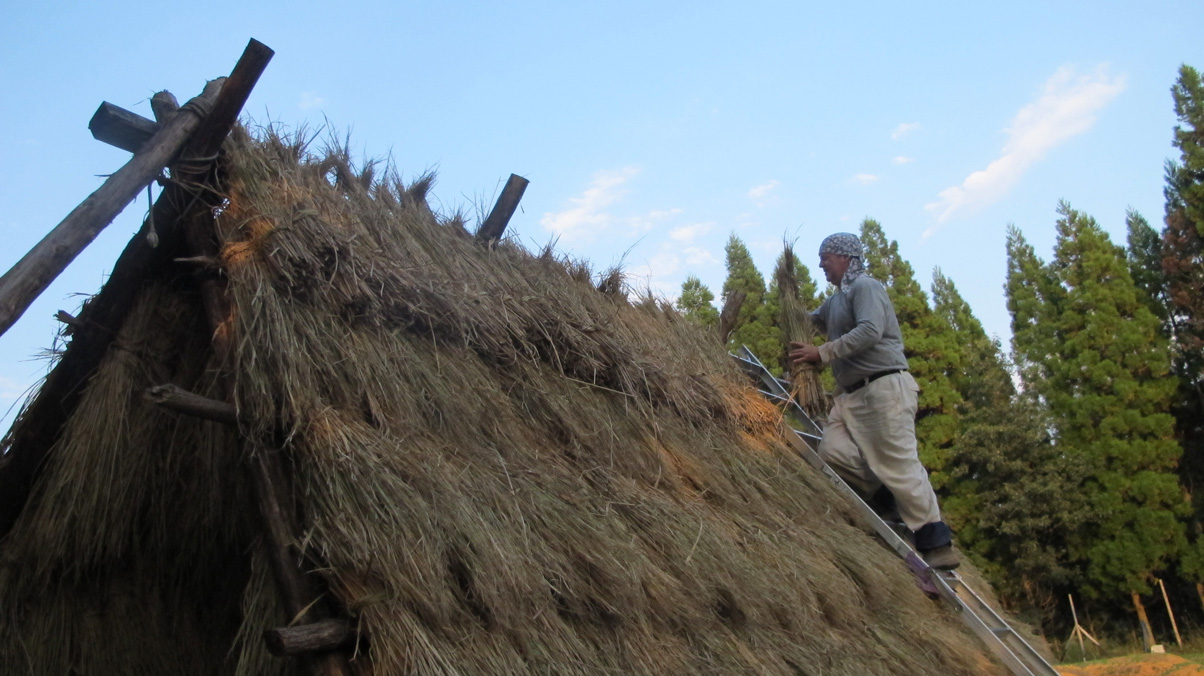 More straw gathering pics
here
and a wee
vid here
.
All in all, a very productive month and a half made all the more pleasant by the presence of Brigitte, the Artistic Anarcho-Buddhist! Damn, we had some fine 'putting the world to rights' discussions too. Have a great rest of your trip, Brigitte. Hope we meet up again sometime.
There, tis written. See you all in a couple of months... if I don't prang the Caterpillar...
カテゴリ
全体
About Us:私達について
Early days:初めは
Forest Garden:食べる森
Lower Field:下の畑
Yurt:ゲル
Other Work:その他の作業
People:人々
Permaculture
This month...
未分類
以前の記事
2013年 11月
2012年 10月
2012年 08月
2012年 06月
2012年 05月
2011年 03月
2010年 12月
2010年 10月
2010年 09月
2010年 08月
2010年 07月
2010年 06月
2010年 05月
2010年 04月
2010年 03月
フォロー中のブログ
エキサイトブログヘルプ
外部リンク
ライフログ
検索
タグ
June
その他のジャンル
最新の記事
ファン
記事ランキング
ブログジャンル
画像一覧