ある家族のパーマカルチャー的自然調和への冒険

by guibi
| | | | | | | |
| --- | --- | --- | --- | --- | --- | --- |
| S | M | T | W | T | F | S |
| | | | | 1 | 2 | 3 |
| 4 | 5 | 6 | 7 | 8 | 9 | 10 |
| 11 | 12 | 13 | 14 | 15 | 16 | 17 |
| 18 | 19 | 20 | 21 | 22 | 23 | 24 |
| 25 | 26 | 27 | 28 | 29 | 30 | 31 |
measure, measure again, cut, fit. Repeat.
It's been a loong, hot, sweaty couple of months since I last posted here but, having just returned from Hokkaido, I feel refreshed enough to sit down at the computer and type.
I've been basically focusing on the yurt interior which, as you probably know, is taking a darned sight longer than putting up the yurt itself did. Very few pieces of wood are the same dimensions, lots of them have to go together to make curved surfaces and unlike the deck, most of the pieces fit together by way of a joint rather than with galvanized hardware and bolts. Also, there are less places where I can say "Fuck it. That'll do...". Pretty much every piece is a finishing piece and making it not just functional but also looking crisp and proper chews through time no end.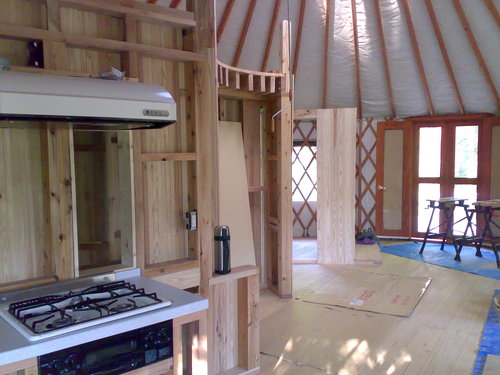 (more pics
here
)
The main changes since last time I wrote are:
- The loft/ceiling is up and solid. Now we have somewhere for stuff that we don't want to look at every day.
- Emma's room, our room, the bathroom and the kitchen are pretty much done. Most of the t&g paneling is on, and looking great if I say so myself. Electrical outlets are in place, and the wiring is all ready to be pulled through the walls (yes, I've left off the odd piece of wall paneling so that I can do this easily, and yes, all the holes in the stud work that it'll pass through are drilled and sanded smooth).
- The kitchen and bathroom fittings are all in place and no floor joists are in the way of the drainpipes. The hot and cold water pipes are in the walls and seem to be water tight... fingers crossed! The gas piping just needs connecting at both ends (bottle and cooker).
- Overhead kitchen cabinets are together and awaiting paint and the fitting of some old window frames that we are going to use as doors.
Still to do are interior doors; genkan; book shelves; our desks; the 'L' of the kitchen; doors for the under-counter kitchen cabinets and Emma's bed/desk combination. Then I have to plug the electrics together and connect the solar PVs etc. I also have to dig two filtration tanks near our water supply and run a pipe from them down to the yurt. Why didn't I do this earlier? Basically because it's too bloody hot to be out digging two 1500 litre tanks and a 50m 50x50cm trench. "Get a digger in!" do I hear you say? Nah. I can do it myself if only it were cooler. I'll wait.
Our friends Iain and Tomoko, having found their land at long last, came to pick up the last of their stuff from the shed a couple of weeks ago. While they were here we press-ganged them into giving us a hand to re-distribute the canvas yurt wall so that it was more evenly tensioned all around. Now it looks much better, and should be better in the case of a big blow (Typhoon season just around the corner). It wasn't that it was a heavy job but it needed lots of hands. Big thanks to you, guys!
So, slow but steady progress here. Of course I've had no time at all for the veg beds, much to I&T's disgust (sorry guys, only got two hands!), but despite that K and I have done some re-thinking regarding the layout and will be making major changes this winter. Should be much easier to handle... more on that when it happens.
That about wraps it up for this post. I hope to find time to get a September report out, but it may well turn into a Sept/Oct report after all. Again, we'll see.
Later!
カテゴリ
全体
About Us:私達について
Early days:初めは
Forest Garden:食べる森
Lower Field:下の畑
Yurt:ゲル
Other Work:その他の作業
People:人々
Permaculture
This month...
未分類
以前の記事
2013年 11月
2012年 10月
2012年 08月
2012年 06月
2012年 05月
2011年 03月
2010年 12月
2010年 10月
2010年 09月
2010年 08月
2010年 07月
2010年 06月
2010年 05月
2010年 04月
2010年 03月
フォロー中のブログ
エキサイトブログヘルプ
外部リンク
ライフログ
検索
タグ
June
その他のジャンル
最新の記事
ファン
記事ランキング
ブログジャンル
画像一覧