ある家族のパーマカルチャー的自然調和への冒険

by guibi
| | | | | | | |
| --- | --- | --- | --- | --- | --- | --- |
| S | M | T | W | T | F | S |
| | | | | 1 | 2 | 3 |
| 4 | 5 | 6 | 7 | 8 | 9 | 10 |
| 11 | 12 | 13 | 14 | 15 | 16 | 17 |
| 18 | 19 | 20 | 21 | 22 | 23 | 24 |
| 25 | 26 | 27 | 28 | 29 | 30 | 31 |
June Update.
The rainy season is officially upon us, not that you'd know it up here. We've had maybe 3 days of serious rainy season rain (and the new drain worked just fine), a week or so of clammy hot 'n' humid and the rest of the time relatively cool (high 20s) and cloudy. Perfect weather for the veg! Perfect weather for the weeds! We've had a lot of success with carrots, beetroot, peas, daikon, pac-choi, rocket and amaranth (last years crop self seeded). Our corn is about ready and I'm keeping my fingers crossed that nothing will steal them. The corn patch is netted in this year, we live and learn!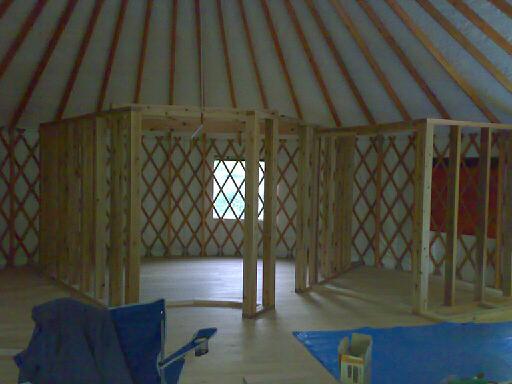 Veg successes seem to be dependent mostly on the beds in which they're planted. The beds up at the top, by the shed, is yielding best. Probably because the soil there got so much attention early last year. The other beds which have done well are the ones we didn't have time to do anything to other than turn over. The beds we dug compost into obviously haven't had enough time to 'digest' their new structure and are doing all sorts of weird things to the seeds we planted there. We've got 18 inch tomato plants almost collapsing under the weight of their fruit, same with egg plant but their fruit is stunted, and the bell peppers there just aren't doing anything. I reckon that by the time next spring comes around and all the additives have had a chance to break down properly, we'll have bumper crops from those beds too.
French beans, cucumbers leeks, onions, and marrow all seem to be coming along great guns and we stand to get a fair crop of gooseberries and currants as well. We really have to figure something out to keep the bugs off of the cabbage, brussels, cauliflower and broccoli (RIP) though. Melons, squash and water melons are having bug issues too :-(
In other news, the fence now completely encloses the land and once the hinges arrive I'll be getting gates on in short order. So far the deer seem to be giving us a miss, though they did get the spuds before I'd completed it. These days I often see them in our neighbours' woods and even on the road down bottom, but no longer nibbling at our trees and seedlings! Hooray! I'm not convinced the fence is high enough though, and I've been told that electric fences don't have the same impact on an airborne assailant as they do on those with their feet firmly on the ground... makes sense really. I think we might run something above the mesh that shows up clearly and dissuades potential jumpers. Still thinking on that one.
The yurt interior is coming together nicely too (pics
here
). I've got all the stud work up, so we now have the rooms clearly defined. I spent a couple of days this week building the bed which will be a structural part of the main bedroom (extra support for the ceiling) and am pretty chuffed with it, to tell the truth. Looking forward to many a night in that. Now that all the support is in place, I can get on with putting in the ceiling/loft joists and then planking that over. The yurt has so far proved to be much cooler under the mid-day sun than we'd feared it might be, which is good news! Fingers crossed that the winter chills get kept at bay in a similar way!
As intimated above, the weeds have been a constant interruption on other projects. Leave the beds un-tended for a couple of days and "Whoomf!" they're back! Basically that means that I get 3 days of construction in and spend two days weeding/tending stuff in the beds. Need to plant much more densely to keep them at bay. Chalk up another one to experience.
Oh, and I've sourced glass at last! We want to get windows in to the shed and also have plans for a green house and cold frames. Trouble is that glass is bloody expensive. Demolition site scavengers unite! I now have all the glass for the shed and maybe a third of the greenhouse glazing in hand. I also got given 5 bloody great retail sized refrigerator doors. Lovely big panes of double glazed glass. I think I'll use them for the cold frames and maybe for the solar water heater too.
All in all, a pretty productive month! More as it happens.
カテゴリ
全体
About Us:私達について
Early days:初めは
Forest Garden:食べる森
Lower Field:下の畑
Yurt:ゲル
Other Work:その他の作業
People:人々
Permaculture
This month...
未分類
以前の記事
2013年 11月
2012年 10月
2012年 08月
2012年 06月
2012年 05月
2011年 03月
2010年 12月
2010年 10月
2010年 09月
2010年 08月
2010年 07月
2010年 06月
2010年 05月
2010年 04月
2010年 03月
フォロー中のブログ
エキサイトブログヘルプ
外部リンク
ライフログ
検索
タグ
June
その他のジャンル
最新の記事
ファン
記事ランキング
ブログジャンル
画像一覧